B.O.B Moisturizing Shampoo + Conditioner For Intense Moisture Bars, Natural & Clean Beauty, Vegan, Plant Based, Plastic Free, Ideal Ph Balance, Waterless & Zero Waste
Regular price

$26.00 USD

Sale price

$20.00 USD

Unit price

per
Brand: B.O.B BARS OVER BOTTLES
Features:
BARS OVER BOTTLES: We develop products that make you proud to have at home. Liquid cosmetics are 80% water and leave an embarrassing carbon footprint along their entire supply chain. Therefore, we transform liquid personal hygiene and beauty products into bars containing only the ingredients that you really need. Water you already have at home.
THE FUTURE IS WATERLESS: Solid cosmetics eliminate plastic packaging and are logistically much more efficient. The packaging industry is the world's largest plastic consumer, overloading our environment with single use plastic. Why carry bottled water along the entire supply chain and into our homes, when water is already in our bathrooms?
INSPIRATION: We like our bars to inspire our customers to live a more minimalist life, prioritizing conscient consumption decision making. A BOB Shampoo Bar renders up to two average sized shampoo bottles, and one conditioning bar replaces three plastic bottles.
OUR SHAMPOO FOR CURLY HAIR: Moisture boost and deep cleansing. Our natural formula prevents dryness to all hair length. The result is a soft, healthy and full of life hair. It also helps on the curl definition, since it has Shikakai extract, known for its curl memorizer effect..
OUR INTENSE MOIST CONDITIONER: Deep moisturizes for the perfect finalization. Also, hair with dry or double tips must be properly conditioned, which helps reinvigorate hair structure. Our nourishing oils contributes to frizz control and make hair soft and shiny.
Binding: Product Bundle
Share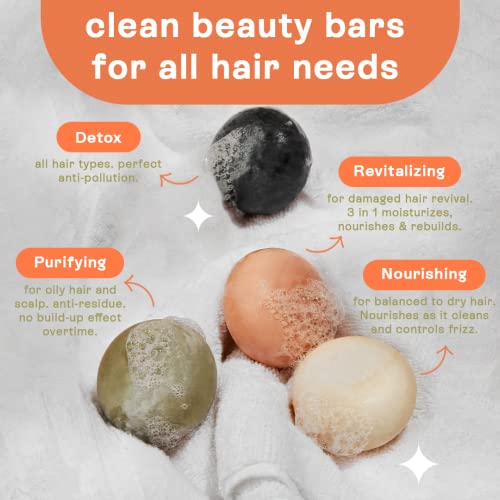 As an Amazon Associate I earn from qualifying purchases