Betterway Bamboo Toilet Paper 3 PLY - Eco Friendly, Sustainable Toilet Tissue - 12 Double Rolls & 360 Sheets Per Roll - Septic Safe - Organic, Plastic Free, Compostable & Biodegradable - FSC Certified
Regular price

$30.00 USD

Sale price

$28.00 USD

Unit price

per
Brand: Betterway
Color: White
Features:
✅ THE SOFTEST BAMBOO TP w/ 100 DAY RISK-FREE MONEY BACK GUARANTEE: How soft is it? As soft as bamboo TP gets! In a blind test of top selling eco friendly TP brands, 96% of people chose Betterway as their #1 FAVORITE! We are so confident you'll love it that you get 100 days to return it hassle free if you're not completely satisfied.
✅ 57% MORE SQUARE FEET PER ROLL - almost 2X longer than other leading brands with 360 SHEETS PER ROLL. This is the BEST VALUE you can find in bamboo toilet paper. Say goodbye to the headache of constantly running out of TP & needing to change the rolls.
✅ 3-PLY STRENGTH, 2X ABSORPTION: 3 layers of premium LINT FREE & STRONG toilet paper with neat-tear technology. With a double-texture weaving pattern, our paper has two sides: smooth for extra comfort & textured grip for the cleanest wipe TP can give you. Find the side that's perfect for you! We're setting a new standard for comfort & cleanliness.
✅ GENTLE ON SENSITIVE SKIN: This bamboo paper is HYPOALLERGENIC, UNSCENTED & DYE-FREE. No more worries about irritation or sensitivity from the chemicals in regular TP brands. Our environmentally friendly toilet paper is made with 100% all natural, non-GMO bamboo.
✅ CARBON NEUTRAL US BASED COMPANY w/ 100% PLASTIC-FREE PACKAGING: We purchase carbon offsets for all of our carbon emissions each year to support green initiatives around the world. Our bamboo is sourced from FSC CERTIFIED forests & the individual wrappers on each roll are COMPOSTABLE. The result is a sustainable toilet paper that is soft on the planet & soft on you.
Details: What are the most important characteristics of a product when you are shopping today? Do you look for a product that is good for you and good for the environment?Betterway is introducing a bamboo toilet paper that is all the things you love - soft, strong, and absorbent - but without the harsh chemicals used to normally create this type of product. This product is hypoallergenic and BPA free. It's filled with all the good stuff and less of the bad stuff. We like to say it's soft on you and soft on the planet.The bathroom can be a smelly place.Hints of candles, cleaning supplies, and the person who used it before you. One thing that won't add to that smell is this toilet paper. This is an unscented and dye free toilet paper created with an elemental chlorine free process.But where's the plastic packaging...?You may be thinking that this doesn't look like any toilet paper you've seen on store shelves. Well, you're right. We didn't feel comfortable selling a sustainable product in single use plastic packaging. So, we created these funky paper wrappers and send them to you in a box made of recycled cardboard. We encourage you to get creative and reuse or recycle all of the packaging.Our goal is to make small changes that are better for us and better for the planet. We know Rome wasn't built overnight, but we want to help continue laying the foundation of a better future.Give this paper a try and wipe with peace of mind.
Package Dimensions: 17.3 x 13.6 x 4.7 inches
Share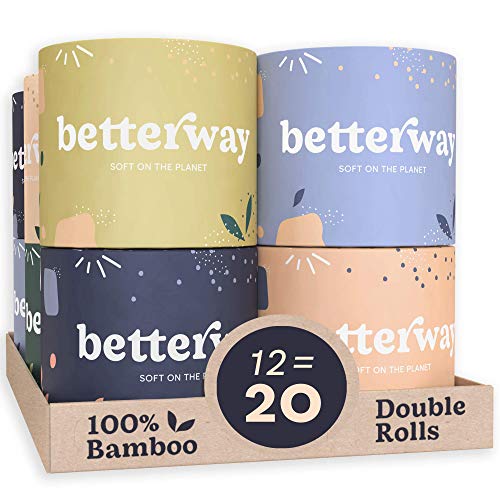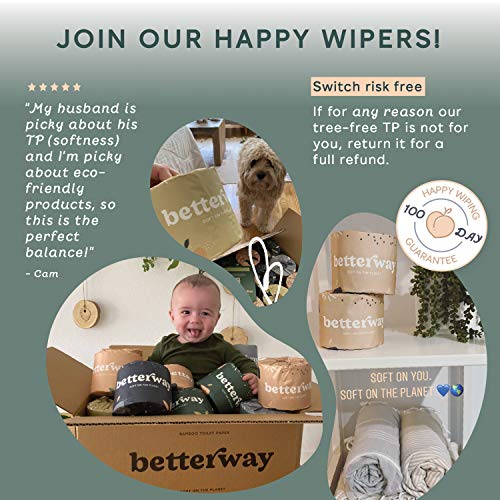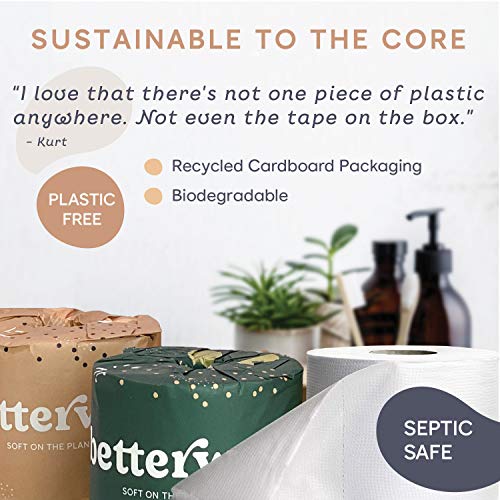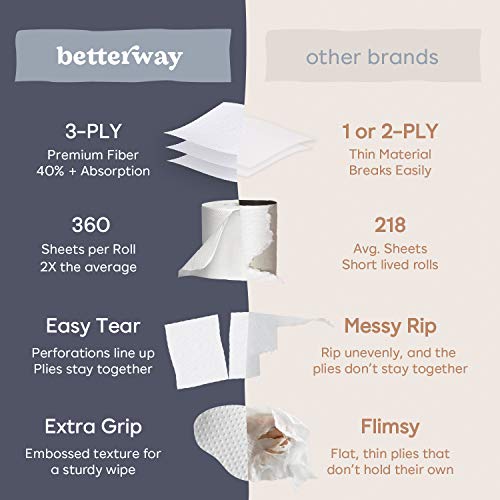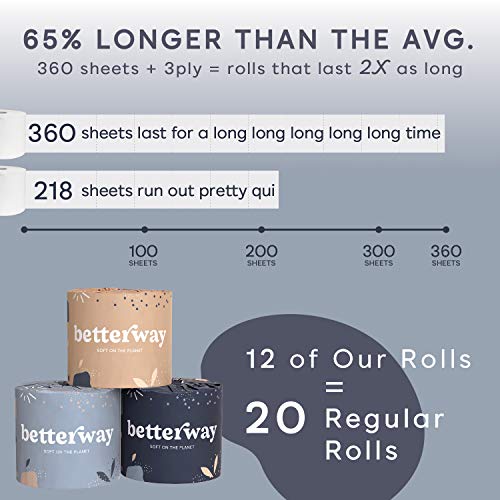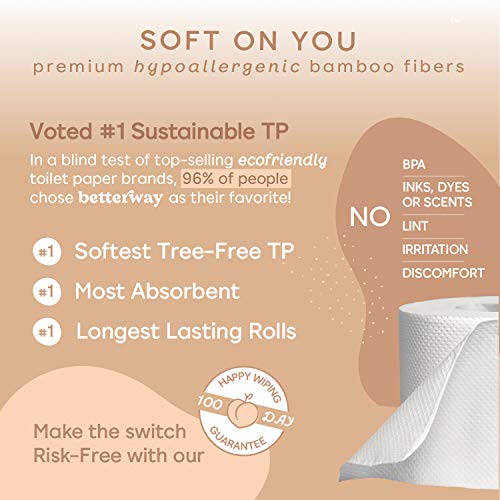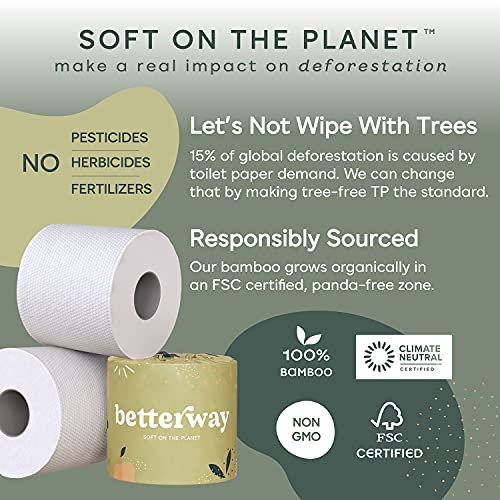 As an Amazon Associate I earn from qualifying purchases