Biodegradable Compostable Sandwich Bags, 7'' x 7.5'' Eco-Friendly Resealable Zip Lock Bags for Food Storage, Lunch and Snacks, Quart Zipper Bags, 20 Pack
Regular price

$7.00 USD

Sale price

$7.00 USD

Unit price

per
Brand: WYMOON
Color: Natural White, Un-Tinted
Features:
𝐏𝐥𝐚𝐧𝐭 𝐒𝐭𝐚𝐫𝐜𝐡 𝐌𝐚𝐭𝐞𝐫𝐢𝐚𝐥, 𝟏𝟎𝟎% 𝐏𝐥𝐚𝐬𝐭𝐢𝐜-𝐅𝐫𝐞𝐞: Biodegradable sandwich bags made from renewable and sustainable plant starches like corn and sugarcane starch. BPA is NOT used in manufacturing WYMOON eco friendly food bags. Products do NOT contain plastic or chemicals.
𝐂𝐞𝐫𝐭𝐢𝐟𝐢𝐞𝐝 𝐂𝐨𝐦𝐩𝐨𝐬𝐭𝐚𝐛𝐥𝐞, 𝐁𝐢𝐨𝐝𝐞𝐠𝐫𝐚𝐝𝐚𝐛𝐥𝐞: 100% compostable and biodegradable food storage bags including resealable zipper. Certified by Biodegradable Products Institute to comply with ASTM D6400, D6800 standards. 6-8 weeks to fully compost at composting facilities; home composting time may vary.
𝐋𝐞𝐚𝐤-𝐏𝐫𝐨𝐨𝐟, 𝐓𝐢𝐠𝐡𝐭 𝐒𝐞𝐚𝐥 & 𝐄𝐚𝐬𝐲 𝐎𝐩𝐞𝐧: Designed with tight-locking seal and non-slip textured tabs for easier open and seal. These biodegradable zip lock bags can keep your lunch and snacks fresh on the go. Ideal for work, school, travel, picnics, or home storage.
𝐅𝐫𝐞𝐞𝐳𝐞𝐫 𝐒𝐚𝐟𝐞: Good for food storage in fridge and freezer. Earth-friendly alternative to plastic freezer bags. Not suitable for microwave, oven or excessive heat.
𝐒𝐭𝐮𝐫𝐝𝐲, 𝐃𝐮𝐫𝐚𝐛𝐥𝐞, 𝐑𝐞𝐮𝐬𝐚𝐛𝐥𝐞: Extra thick, heavy-duty bags that are reusable after hand-washing and drying. Contains 20 extra-large sandwich zip bags, 7 inches wide by 7 1/2 inches in height, quart size, in environmental-friendly recyclable paper packaging.
Details: Our Brand WYMOON is dedicated to reduce the use of single-use plastic by offering our customers premium compostable zip lock bags. Your satisfaction is our top priority. If you have any issue with our products, please feel free to contact us, we will respond ASAP. WYMOON Eco Sandwich Bags, earth-friendly alternative to disposable plastic bags. • Plant-based biodegradable zip lock bags. All bags are certified compostable. Contribute to sustainable kitchen and zero waste living. • Extra large sandwich and snack bags. 7 inches wide by 7.5 inches in height, 25% larger than regular sandwich bags. • Reusable, extra thick and durable bags that are easy to clean and reuse. • Easy to grab, seal and open. Lock in freshness with the leak-proof zipper seal. • Freezer safe bags. Good for food storage in fridge and freezer. • Ideal for bringing lunch and snacks to work, school, picnics, or for storing food and non-food items at home. • Eco friendly recyclable paper packaging. Safety and Storage Warning! To avoid danger of suffocation, keep bags away from babies and young children. The thin film may cling to nose and mouth and prevent breathing. Not suitable for use in microwave, or for storage of liquids. Store in a cool and dry place, avoid moisture and direct sunlight, keep away from mice or other animals because bags are made from plant starch.
EAN: 0195893339280
Package Dimensions: 7.5 x 2.4 x 1.5 inches
Share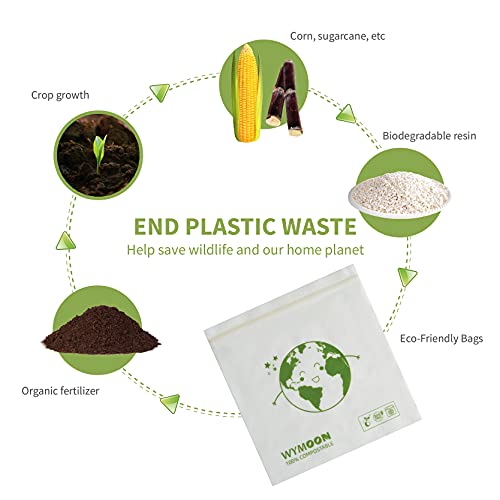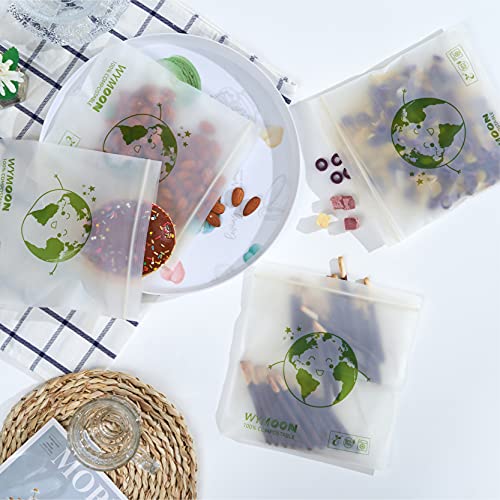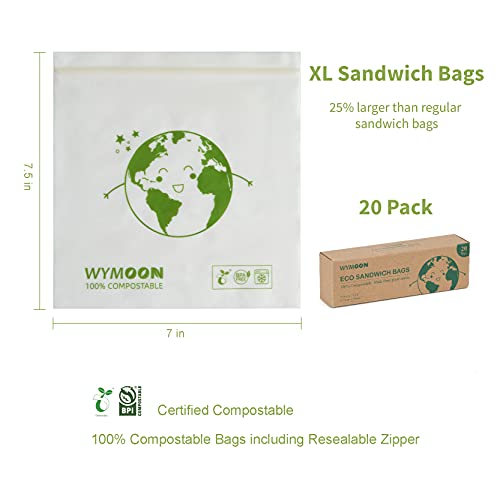 As an Amazon Associate I earn from qualifying purchases