Ecozoi Stainless Steel Lunch Box, Leak Proof 1 Tier Eco Metal Bento Box | Bonus Pod And Redesigned Silicone Seal | Sustainable Zero Waste Eco Friendly Food Storage Container
Regular price

$0.00 USD

Sale price

$28.00 USD

Unit price

per
Brand: Ecozoi
Color: Steel
Features:
ECO-FRIENDLY & BPA FREE: This product is designed as an eco-friendly alternative to Plastic Bento lunch boxes. The materials used include high quality food grade 201 Stainless Steel that is PVC Free, Phthalate Free, Leaching Free, and Lower Carbon Footprint than Plastic. Comes in recycled packaging that can be completely reused (Zero Waste packaging).
DIMENSIONS: All together when boxed up, the bento measures 5 inches wide, 6 1/2 inches long and 1 3/4 inches deep and fits about 4.5 cups of food or 35 oz capacity
REDESIGNED SILICONE SEAL & BONUS LUNCH POD: The product comes with a bonus lunch pod for easy storage for nuts or fruit chunks for lunch. The redesigned silicone seal would help with the industry best leak proof performance and longevity of the product. No glue is used with the redesigned silicone seal.
LEAK PROOF & DISHWASHER SAFE: The product is completely leak proof and dishwasher safe. However, for the lid we advise to wash with soap under cold water. Alternatively, if you place the lid in the dishwasher, the silicone seal may come off due to expansion caused by the hot water, in which case please wait for 2 mins for it to cool down before placing the seal back.
LIFETIME WARRANTY: This product is designed to last forever! We guarantee 100% satisfaction and life time manufacturer warranty. If anything happens, just contact us for a free replacement.
Binding: Kitchen
model number: 1 Tier
Part Number: 43235-189224
Details:
Want to provide Yum lunch and snack for your kids and your family while being Eco Friendly and Safe?
Join our mission to create better alternatives to Plastic by purchasing our Ecozoi Eco-Safe Stainless Steel Leak Proof Lunch Box, that comes in a fun and easy-to-use design that is easy to clean and carry everywhere you go 
Better than the Plastic Bento Lunch Boxes 
The Stainless Steel premium food grade material helps keep the contents at a steady temperature and odorless compared to a typical Plastic lunch box and is much safer in comparison 
Reusable, Food-Grade Stainless Steel 
These metal lunch boxes are crafted with high-quality stainless steel that's BPA-free and safer than plastic and more durable than silicone. Rust and corrosion resistant, our dishwasher safe lunch box can be used over and over again
Order Includes: 
1 Stainless Steel Leak Proof Rectangle Bento Lunch Box 
1 Bonus Organic Reusable 100% Natural Cotton Lunch Bag 
Product Details: 
Dimensions: All together when boxed up, the bento measures 5 inches wide, 6 1/2 inches long and 1 3/4 inches deep and fits about 2 to 3 cups of food
Stainless-Steel Food Grade Material (18/8) 
Ecofriendly, Reusable 
Freezer and Dishwasher Safe 
Kid and Adult Friendly 
Easy to Use 
This product is safe for the Planet, safe for the Oceans, and Safe for yourself and your kids. SAY NO TO PLASTIC!
EAN: 0866607000443
Package Dimensions: 7.4 x 5.6 x 2.6 inches
Share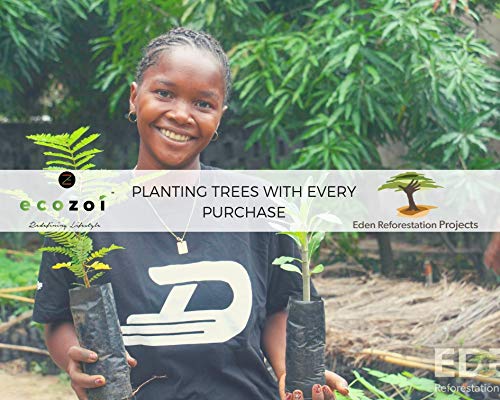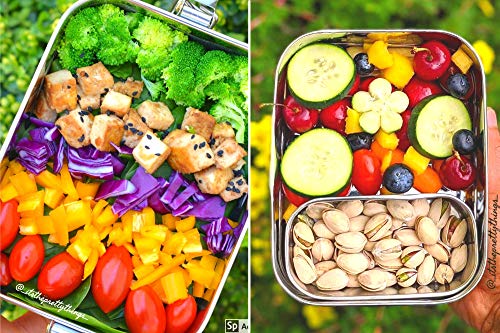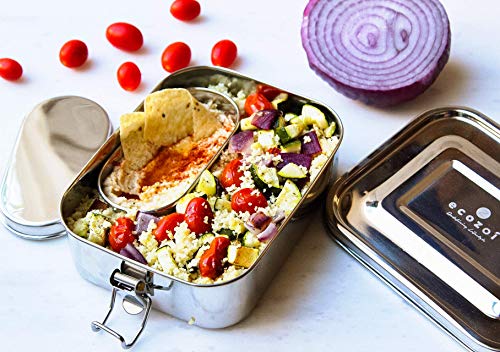 As an Amazon Associate I earn from qualifying purchases