Greenzla Bamboo Toothbrushes (12 Pack) | BPA Free Soft Bristles Toothbrushes | Eco-Friendly, Natural Bamboo Toothbrush | Biodegradable, Compostable & Organic Charcoal Wooden Toothbrushes
Regular price

$10.00 USD

Sale price

$9.00 USD

Unit price

per
Brand: GREENZLA
Features:
Go Green - Both the toothbrushes and packaging are eco-friendly, allowing you to clean your teeth with a clear conscience every day. Plus, the zero-waste design provides you with a natural oral product.
12 Durable Toothbrushes - The design is robust and durable, with each toothbrush lasting up to 6-months of use. What's more, every pack features 12 bamboo toothbrushes, making this a cost-effective way to keep the family brushing.
Soft Bristles - Our bamboo charcoal blended bristles feel soft on teeth and gums. We only use premium quality materials that are sustainably sourced, which makes all Greenzla products natural & eco-friendly.
Smooth and Natural Bamboo Handle - Our wooden toothbrushes aren't just soft on your teeth, but also in your hands. The comfortable handle fits perfectly in the palm of your hand for an added level of convenience.
Quality You Can Trust - The Greenzla brand is committed to high-quality, environmentally-friendly products that are natural & eco-friendly. We believe in our products so much that we offer a money-back guarantee if you're not completely satisfied.
Part Number: GreenzlaBrushUK
Details: Premium Quality Organic Materials Greenzla sources the finest organic materials to produce BPA-free toothbrushes with charcoal-infused bristles that are safe on teeth and gums. Ergonomic & Cost-Effective Made with maximum comfort in mind, the strong yet supple design is gentle in your palm. Each toothbrush in the 12-pack also has a long life span of up to a year, making this deal easy on your teeth and easy on your pocket. Eco-Friendly Inside and Out Every Greenzla product is carefully packaged in 100% natural and biodegradable materials that can double up as a unique gift for a loved one. Easy on the Environment Our zero-waste principles mean that all our toothbrushes are 100% compostable. With the efficient growth rate of bamboo as well, Greenzla has tapped into the greatest source of sustainable materials to create a loyal customer base of eco-warriors.
Package Dimensions: 10.3 x 7.3 x 0.7 inches
Share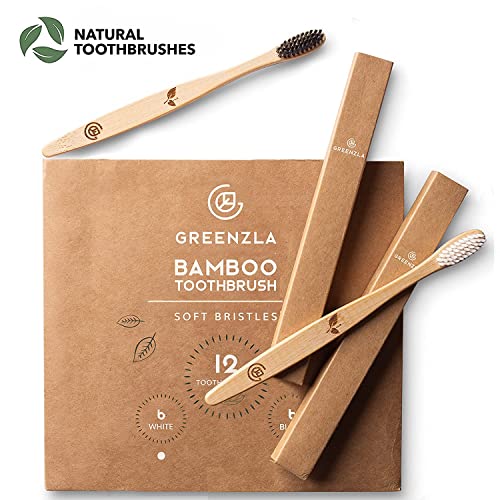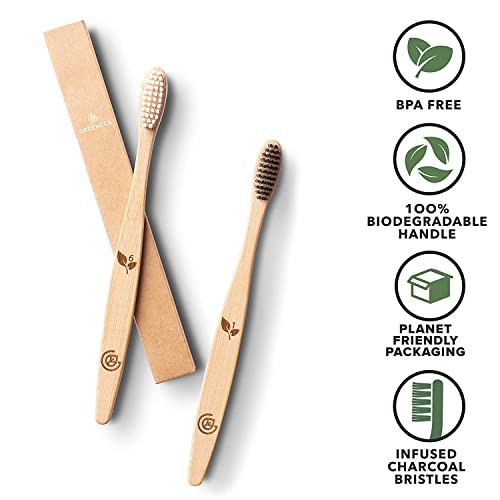 As an Amazon Associate I earn from qualifying purchases