Reusable Food Wraps w/Beeswax Assorted 9 Packs - Eco-Friendly Reusable Wraps, Biodegradable, Zero Waste, Organic, Sustainable, Plastic-Free Food Storage, 5S, 3M, 1L w/ Tree and Fox Pattern
Regular price

$20.00 USD

Sale price

$16.00 USD

Unit price

per
Brand: Akeeko
Color: Tree and Fox
Features:
♻️ ECO-FRIENDLY NATURAL INGREDIENTS: Our food wraps s are made from organic cotton, organic jojoba oil, ethically harvest beeswax, and tree resin. These wraps are all certified with European LFGB. The fabric is GOTS certified (Global Organic Textile Standard), and even for packaging it is made of 100% recycled paper. A natural alternative to plastic wraps and cling film!
♻️ ONE SIZE DOES NOT FIT ALL: Size and Quantity would matter! Our design is triple than the popular quantity and sizes for your daily uses. 9-PACK includes 5 Small (7" x 8"), and 3 Medium (10" x 11"), and 1 Large (13" x 14") wraps. Different sizes can cover different foods depending on your demand.
♻️ EASY TO WASH, REUSABLE, COMPOSTABLE : Use the warmth of your hands to soften the wrap and form over a container or piece of food. Wash in cool water with mild soap and air dry. Keep food wraps s away from heat and don't put them in the dryer. The properties of beeswax and jojoba oil help keep food fresher and allow food wraps to be used again and again.
♻️ FOOD STAYS FRESHER FOR LONGER: Our premium reusable food wraps with beeswax are not only environmentally friendly and highly sustainable it also makes sure your food stays fresher for longer. Our food wraps s can create air tight seals which will keep your food fresh and delightful. Now you can keep your sandwich, cheese, fruit and leftovers wrapped up and maintain flavor of your food.
♻️ TRY OUR WRAPS RISK FREE 💯 - If for ANY reason you aren't completely satisfied with these wraps, please let us know and we will refund or replace your purchase! Simply contact us by clicking on the "Akeeko4Planet" store and then click on ask a question.
model number: Tree and Fox
Details: Hand-crafted, reusable food wraps made with organic cotton fabric, beeswax, tree resin & cold pressed jojoba oil. Your Assorted 9 Pack w/ Trees and Foxes Pattern: * 5 Small wraps (7" x 8") - good for cheese, cut cucumbers, avocados, small trail mix, half a lemon and to top jars. * 3 Medium wrap (10" x 11") - good for bigger blocks of cheese, large trail mix, half a sandwich, half a cabbage, medium bowls, grape tomatoes and baked goods. * 1 Large wrap (13" x 14") - good for sandwiches & left over pizza slices, celery, cheese, larger bowl or dish, larger melon, grapes, greens and asparagus. Care Instructions: 1. Hand-wash your Beeswax Food Saving Wrap with cold water and alcohol-free soap, air dry, fold and store.2. Keep your food wraps away from heat. Not recommended for raw meat - avoid contact with greasy and acidic foods. 3. Your wraps are made from 100% natural materials and are completely biodegradable. You may also reset the fabric with your own beeswax mixture to revamp near the end of its life.
EAN: 0742484294246
Package Dimensions: 8.2 x 7.0 x 0.4 inches
Share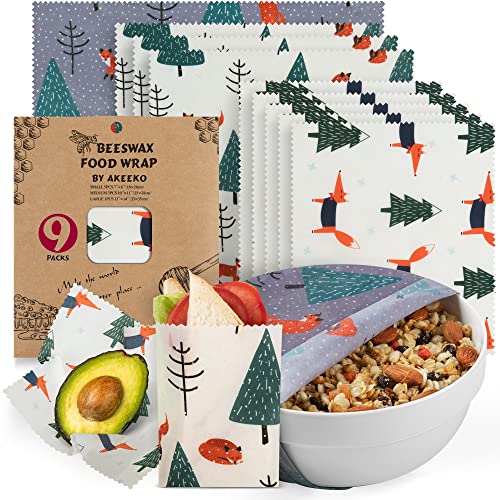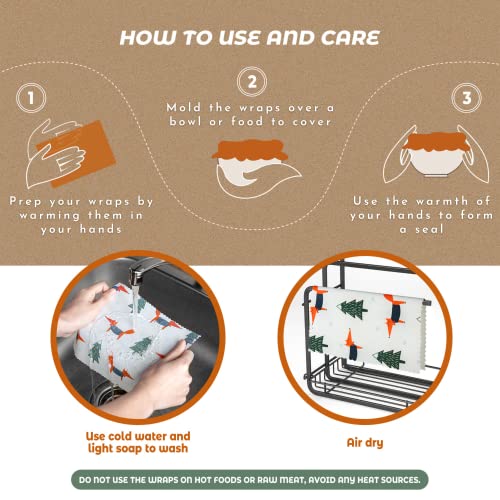 As an Amazon Associate I earn from qualifying purchases