Seed Starter Trays Kit | Ideal for Starting Seedlings & Easy to Transplant | 100 Organic Starter Pots for Planting Seeds | Biodegradable Seedling Starter Planter Tray
Regular price

$0.00 USD

Sale price

$18.00 USD

Unit price

per
Brand: Eco Pots
Color: Brown
Features:
✅ 100 SEEDLINGS PLANT KIT - whether you're a seasoned gardener, novice or just want gifts for plant lovers you'll get everything you need with our gardener seed starter kit. Each germination kit includes 10 trays with 10 cells (100 total), 10 plastic plant markers, 1 seedling shovel and 1 seedling digger.
✅ PERFECT GARDENING GIFTS - The seed starting tray pack comes gift boxed making them lovely gifts for gardeners in time for spring. This gardening set is ideal for occasions such as Christmas and Birthdays for gardeners who are men, women, dad, mom, grandma, grandad and anyone special.
✅ ECO-FRIENDLY & BIODEGRADABLE - made from 100% natural and biodegradable recycled paper. Each cell is a 1.35" square and 1.75" deep, total seed tray is 3" wide by 8.5" long making them the perfect size for the germination of vegetable saplings, flowers, herbs, spices, and other plants - plant markers, shovel and digger are not biodegradable.
✅ ENSURE SEEDLING SUCCESS - Our starter pots for planting provide a convenient way for starting seeds, saplings and seedlings. They can be used for indoor or outdoor growing in any season (Summer, Fall, Winter, and Spring)! Moreover, they allow you to pot and plant when young seedlings are ready for transplanting to greatly improve the survival of the seedling.
✅ PREVENT TRANSPORT SHOCK - plant the whole seed starter pods into the ground without taking out the seedlings. This means that the roots are never disturbed or harmed so that your plants stay strong and vigorous! Once the roots are strong enough they will penetrate the pot and begin to degrade, acting as a natural, organic fertilizer for the plant soil.
Details: Do you want to increase your chances of planting success?🌱  Just imagine all those beautiful little seedlings sprouting in your backyard garden or on your windowsill.  Our premium seedling tray provides the ideal environment for your little seedlings to grow and thrive until they are large enough to be transplanted to your garden.  As any gardening enthusiast will tell you, planting seedlings is a delicate process. The seedlings often require to be initially grown in small seed starter pots and then transplanted - a process many of them aren't strong enough to survive.  Our amazing seed trays provide a simple solution to that millennia-old problem. Just grow your seedlings, and then plant them in your flower bed or garden in the trays. No transplant shock, no root circulation, and no withered flowers and vegetables. Which equates to much bigger & healthier plants that you can be proud of.  The seedling trays provide durability as the pots won't disintegrate or crumble too quickly, allowing you to sprout your seedlings for the right length of time while still allowing the roots to penetrate thru the walls as your seedlings grow.  You also receive 10 BONUS Plant Markers – When planting multiple seeds, to easily identify your seedlings.   Great Value Bulk Pack – This kit includes  10 x 10 Cell trays 10 x Plant markers 1 x Seedling shovel 1 x Seedling digger  Dimensions: Tray: 8.8 X 3.5 X 1.75 inches (Length * Width * Deep)  Cell diameter: 1.35 inches  TIPS FOR EXTRA SUCCESS:  Be patient by slowly pulling them apart from one another.  Remember the seedling starter tray are made mainly of paper, so do not over-water.  If you want certainty that your plant tray won't break you could place the trays in larger containers or reinforce with cardboard.
Package Dimensions: 9.1 x 6.0 x 4.0 inches
Share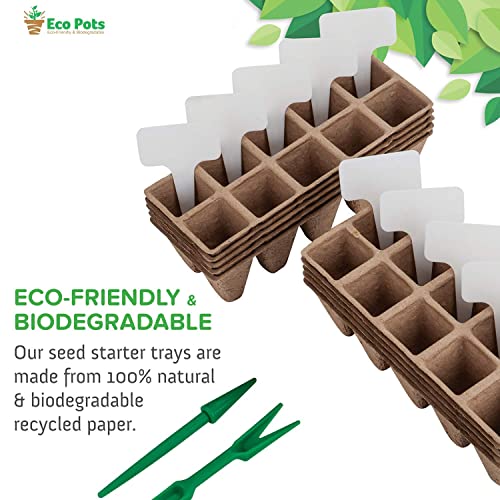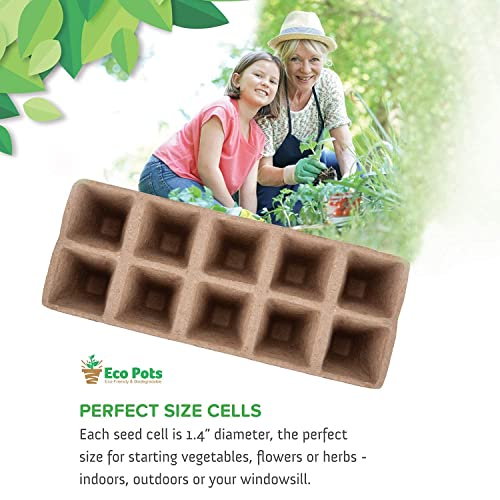 As an Amazon Associate I earn from qualifying purchases