Togo Power 100W Portable Solar Panel for Jackery Explorer 240/300/500/ROCKPALS/Flashfish/Baldr Power Station, Foldable Solar Cell Solar Charger with USB Outputs for RV Laptop iPhone iPad
Regular price

$197.00 USD

Regular price

$246.00 USD

Sale price

$197.00 USD

Unit price

per
Brand: Togo POWER
Features:
🌼𝘿𝙚𝙨𝙞𝙜𝙣𝙚𝙙 𝙁𝙤𝙧 𝙈𝙤𝙨𝙩 𝙂𝙚𝙣𝙚𝙧𝙖𝙩𝙤𝙧𝙨: This unit is compatible with most power stations on the market, including 𝙅𝙖𝙘𝙠𝙚𝙧𝙮, 𝙍𝙤𝙘𝙠𝙥𝙖𝙡𝙨, 𝙁𝙡𝙖𝙨𝙝𝙛𝙞𝙨𝙝, 𝘽𝙖𝙡𝙙𝙧, 𝙖𝙣𝙙 𝙏𝙤𝙜𝙤𝙋𝙤𝙬𝙚𝙧. If you have your own adapter, it can also be used with Anker, EF Ecoflow, Bluetti, and Golabs.
🌼𝙃𝙞𝙜𝙝 𝙀𝙛𝙛𝙞𝙘𝙞𝙚𝙣𝙘𝙮: This unit has an efficiency rate of 𝟮𝟰%, which is 4% more than the market average. TogoPower 100W Solar Panel is equipped with 𝙝𝙞𝙜𝙝-𝙚𝙛𝙛𝙞𝙘𝙞𝙚𝙣𝙘𝙮 𝙢𝙤𝙣𝙤𝙘𝙧𝙮𝙨𝙩𝙖𝙡𝙡𝙞𝙣𝙚 𝙨𝙞𝙡𝙞𝙘𝙤𝙣 𝙘𝙚𝙡𝙡𝙨 and a EFEF durable solar panel. This unit is ideal for outdoor activities such as RVing, camping, unexpected power outages, and disaster preparation.
🌼𝙋𝙤𝙧𝙩𝙖𝙗𝙡𝙚 𝙖𝙣𝙙 𝙒𝙖𝙩𝙚𝙧 𝙍𝙚𝙨𝙞𝙨𝙩𝙖𝙣𝙩: This unit is designed with a rubber handle and flexible bracket stand. The Bracket stand can be 𝙖𝙙𝙟𝙪𝙨𝙩𝙚𝙙 𝙪𝙥 𝙩𝙤 𝙖 𝟭𝟴𝟬 𝙙𝙚𝙜𝙧𝙚𝙚 𝙖𝙣𝙜𝙡𝙚. Weighing only 8.4 lbs, its easy to carry and its 𝙄𝙋𝟲𝟳 𝙢𝙖𝙩𝙚𝙧𝙞𝙖𝙡 𝙢𝙖𝙠𝙚𝙨 𝙞𝙩 𝙬𝙖𝙩𝙚𝙧-𝙧𝙚𝙨𝙞𝙨𝙩𝙖𝙣𝙩. The entire unit can withstand water damage except the junctions box.
🌼𝙊𝙛𝙛-𝙂𝙧𝙞𝙙 𝙋𝙤𝙬𝙚𝙧 𝙎𝙪𝙥𝙥𝙡𝙮: Combine your power station with this solar panel to create your own source of energy off the grid. This is an 𝙚𝙘𝙤-𝙛𝙧𝙞𝙚𝙣𝙙𝙡𝙮 𝙨𝙤𝙡𝙪𝙩𝙞𝙤𝙣 to gas powered generators and can be used in all kinds of situations. this includes camping, home use, disaster prep, and more.
🌼𝙎𝙥𝙚𝙘𝙨 𝙖𝙣𝙙 𝙒𝙖𝙧𝙧𝙖𝙣𝙩𝙮: 1*Togo Power 100W Solar Panel, 1*3m Anderson to MC4 adapter, 1*0.65 Anderson to DC7909+DC5521+Aviation, 1*1.5 Anderson Cable (Equipped with the Solar Panel), and 1*User Manual. This unit has a 12-month warranty backed with our friendly customer service available 24/7.
model number: TSP-120FM
Part Number: TSP-120FM
Details: Product Features Powerful DC 18V output 1. Works for laptop - Compatible with Dell, HP, Asus, Acer, Lenovo, Samsung, Square Trade, Toshiba, ALIENWARE. 2. Designed for most portable generators, compatible with most solar generators, portable power stations on the market. 3. It can charge 18-volt batteries, works for car, motorcycle, boat, marine, tractor, RV, Power sports, snowmobile. Small in Size and Easy to Take Perfect for yard, tent, hiking, camping, trekking, climbing, drive travel, car/boat/RV battery, and other outdoors and emergency. Making full use of natural solar energy to charge the power bank itself, best portable power sources for your business trip, hiking, climbing, and camping. Adjustable Kickstand TogoPOWER 120W Solar Panel features an adjustable kickstand for better getting sunshine with slightly adjust the angle. It will get up 25% more sunlight than flat laying. Product Description: Charging Port Output: DC 18V/6.6A(Max) Dual USB: USB-A(QC3.0 24W) & USB-C(PD 45W) Dimensions (Unfolded): 65.35*20.47*0.98 inches / 166*52*2.5 cm Dimensions (Folded): 20.47*14.57*2.17 inches / 52*37*5.5 cm Weight: 10.25 lb / 4.65 kg Accessories include: 1* 1.5m Anderson 30A Cable 1* 3m Anderson 30A to DC 8mm 1* 3m Anderson 30A to Solar Y Branch Connectors 1* User Manual
EAN: 0860003156940
Package Dimensions: 25.5 x 23.1 x 3.0 inches
Share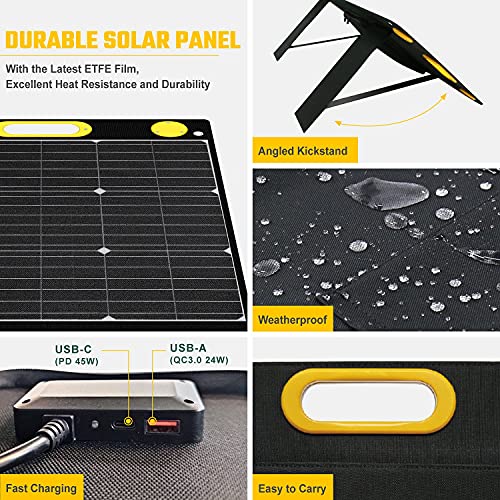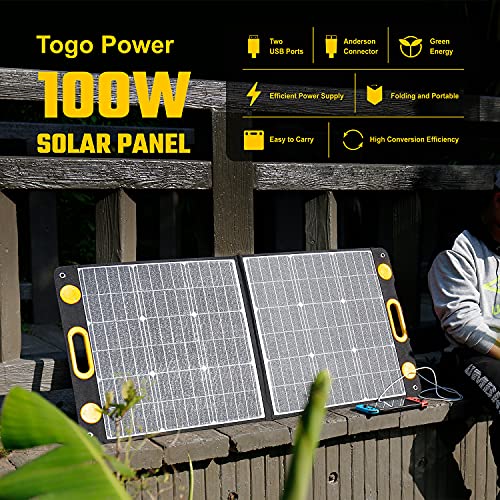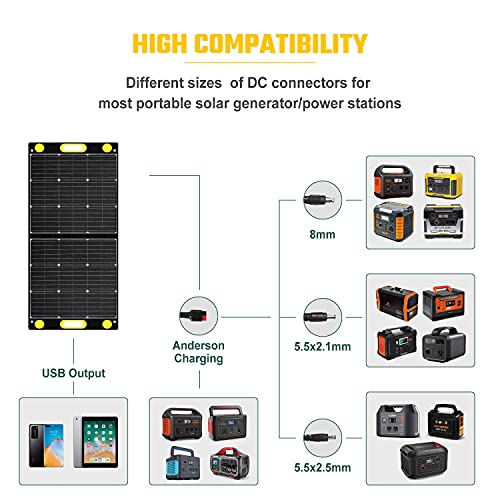 As an Amazon Associate I earn from qualifying purchases