Wild Pact 7.5" Cork Flower Pot with Drainage (Coarse Grain): Eco-Friendly Natural Pot for Plants - 1x Cork Pot + Rice Hull Saucer Set – Succulents, Herbs - Multi Use Indoor Planter - Gardening Gift
Regular price

$0.00 USD

Sale price

$24.00 USD

Unit price

per
Brand: WILD PACT
Features:
ENVIRONMENTALLY FRIENDLY: If you want to add some natural, plastic free charm into your home, this plant pot and saucer set is the perfect choice. A sustainable eco product, you can be rest assured you're not harming the planet with these flower pots.
ULTRA LIGHTWEIGHT: Each indoor planter pot is made using large granule cork. Effortlessly lightweight and easy to carry, this set provides a brilliant alternative to regular heavy ceramic pots for plants.
MULTIFUNCTIONAL: Able to grow a wide range of indoor plants including herbs, succulents, cacti and flowers, this succulent planter set is super versatile. And paired with its rustic cottage-style charm, they'll look stunning across a variety of settings.
LONG LASTING: These indoor planters feature a useful drainage hole, making them water resistant and durable. Designed to last for years without appearing bulky, these pots provide the perfect balance of natural materials and durability.
MONEY BACK GUARANTEE: If you're not completely satisfied with these sustainable plant pots, simply let us know within the first 30 days of purchase to receive a full refund – no questions asked!
Details: Your Plant Finery Have you been searching for a unique planter that's not too heavy, not too flimsy, and perfectly complements your décor? Are you an eco-conscious gardener constantly on the lookout for flowerpots that are kind to the planet while being easy on the eyes? Do you need a pot that has a good-sized drip hole to regulate the drainage? Spice Up Your Space with This Sustainably-Designed Pot and Saucer Set from Wild Pact! With a 7.5" coarse-grain cork plant pot and it's unique rice hull saucer, is the perfect home for your indoor plants, herbs or flowers bringing style to your space while maintaining a negative carbon footprint. Rustic Charm: These coarse-grain pots infuse your room with that beachy vibe which makes just about any plant or flower look like it belongs there. From the porch to the living room to the sunroom, this pot and saucer combo will charm your guests and your family. Flourish: With their cork construction and a 0.6" drainage hole, these pots help regulate moisture while helping to aerate the soil. With proper care, the result is a happy plant that thrives! Negative Carbon Footprint: Since our pots are made from the regenerative bark of cork oak trees, and our saucer is made from rice hull – a renewable byproduct of rice – you can be assured that you'll actually be aiding the environment when you purchase this plant and flower décor. Planter Happiness: If you're not thrilled with your plant pot set, just let us know within 30 days and we'll make it right with a refund or replacement. Order Yours Today, and Do Right by the Environment While Spoiling Your Plants and Beautifying Your Home!
EAN: 9369998079384
Package Dimensions: 8.5 x 7.8 x 7.8 inches
Share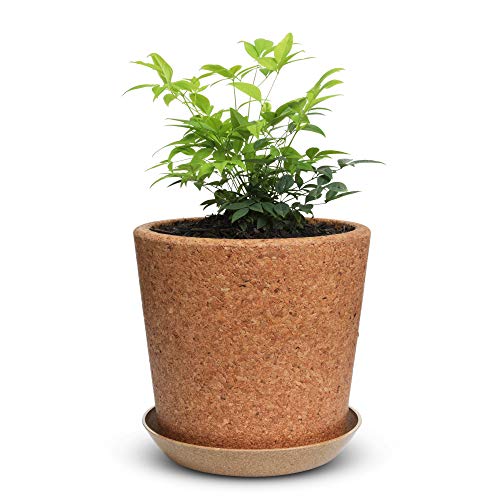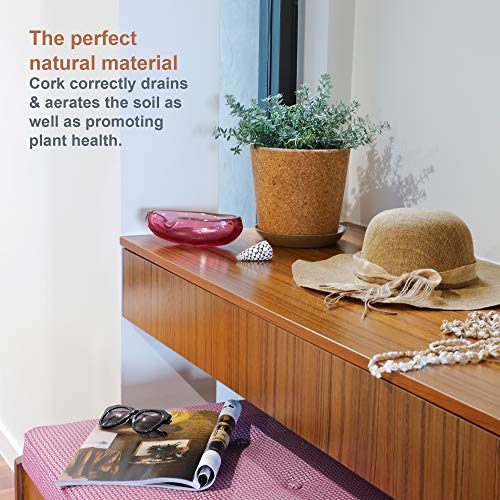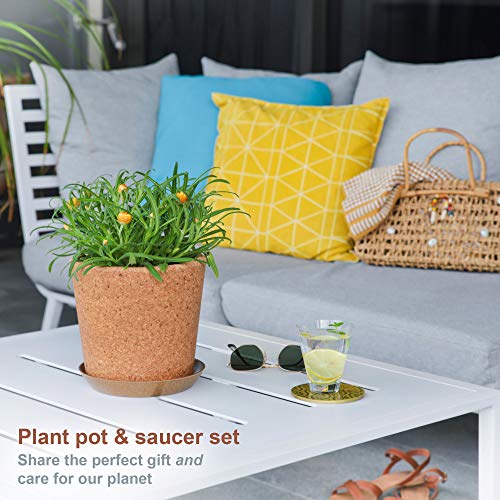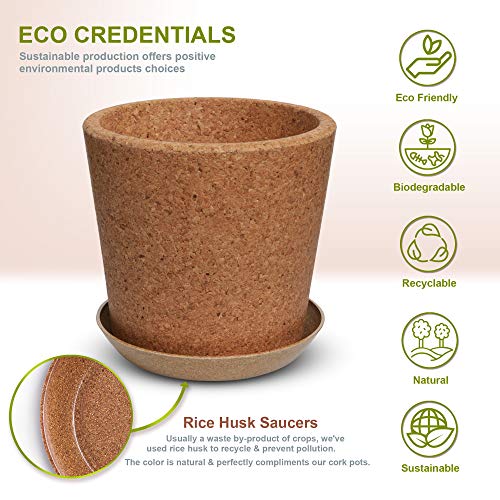 As an Amazon Associate I earn from qualifying purchases